my name is jasmine,
what's yours?
So you came here to know more about the person you're debating about hiring? Let's start at the top. I was born in Farmington, New Mexico but my family moved to Indianapolis in 2000. Throughout my childhood, both my grandmothers pushed me to explore my creativity, being artists themselves. I was always 'creative' but never driven. Typically taking photos on the little point and shoot one of my grandma's brought me or taking a couple of 3D art classes in school. I graduated high school and set plans in place for what I thought was my passion - Criminal Psychology. Didn't make it far into college before being in a major car accident that left me briefly debilitated from a lot of daily activities, such as work or school. I picked up a cheap DSLR to entertain myself during my work leave. Mostly taking photos of my cats and my friends, until an old high school acquaintance inquired about her wedding. She didn't have a lot to spend, and I didn't have any practice at all. It was perfect! Immediately, I knew I had found my passion. Capturing love. This whole world opened up that I never knew I wanted to be a part of and quickly developed into a sustainable gig. Fair warning, I befriend most of my clients and even hang out or talk with them outside of the business. Outside of photography, I mostly enjoy thrifting/decorating, traveling, and snuggling my four cats. Recently I've been learning to cook from my husband, Nick. That's mostly been trial and error - I am nowhere near as skilled as he is in the kitchen. Hanging out with my friends is my happy place. They are beyond supportive of all my crazy photography ideas and can often be found in my more editorial style of work. Aside from that, a lot of my time is spent dreaming of all the places I'll go someday. In 2017, I crossed eleven countries off my list in a 32-day trip across Europe. It was the most insane adventure I've ever been on and the most exhausting.
Favorite place I've traveled to? Florence, Italy
(Closely tied with Barcelona, Spain)

Favorite thing to photograph outside of weddings? Outside of conventional stuff, I love taking photographs of my friends and helping their confidence blossom!

Favorite type of food? Indian or Thai. Magical.

Harry Potter House? Ravenclaw. Need I say more?

Top place to travel to next? Anywhere in Thailand. Again, food.

Favorite movie? Oliver & Company

Favorite song? You Can Call Me Al by Paul Simon

Guilty pleasure? Cat-calling street cats. Sometimes they meow back!

Favorite drink? I like a good Pimm's Cup.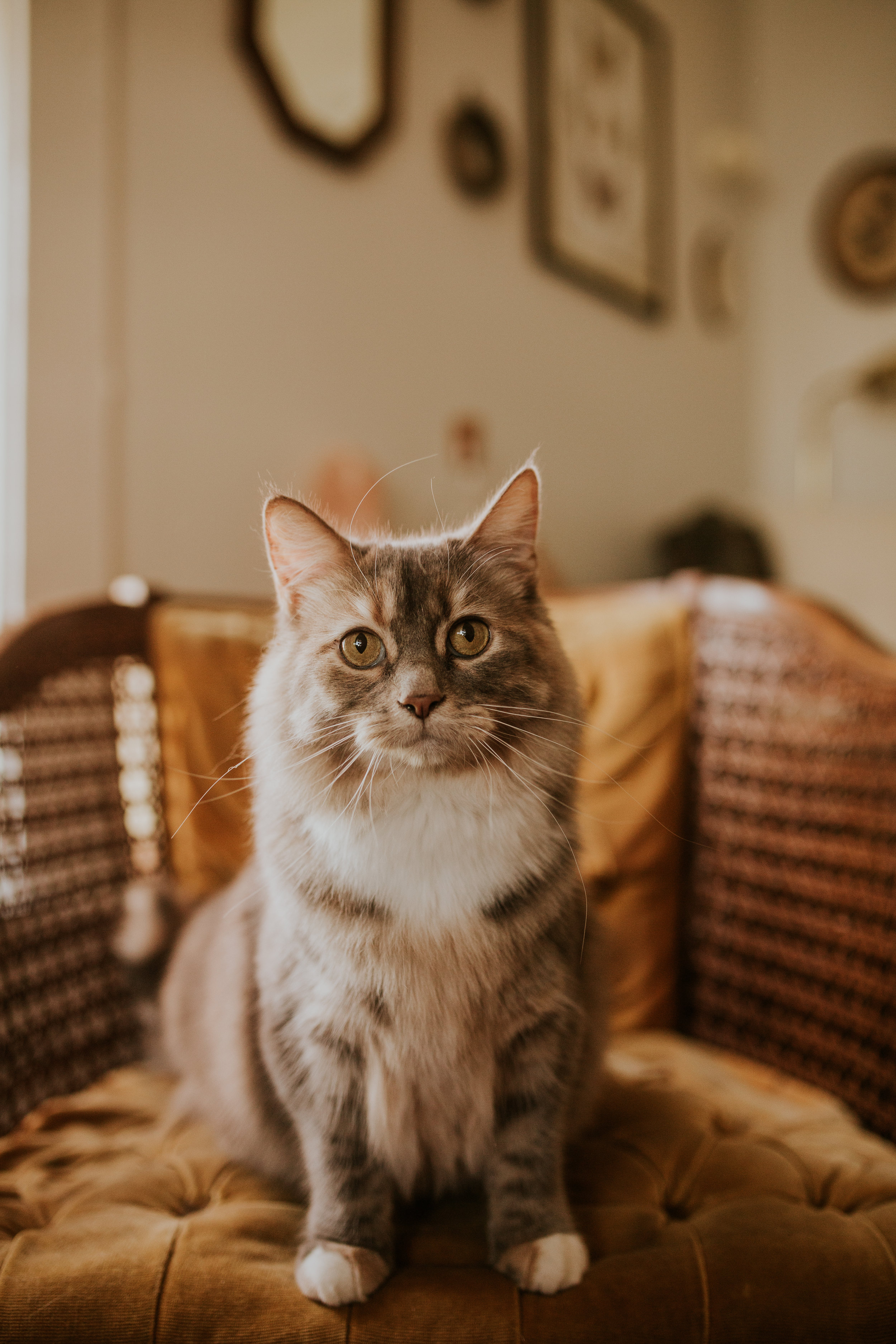 Ygritte - The Loyal
This little one is soul cat. She's by my side at all times or very closely around. We snuggle, play, and watch movies. She's my biggest supporter. I stumbled across her in the summer of 2017 at a local animal shelter. She had just given birth to eight kittens at only 6ish months old herself. I adopted her at 9 months after she weaned off her sweet kittens. She chose me, and I chose her. Our bond was instant. She's a crowd pleaser.
Jar Jar Binks - The Gentle
Inappropriately named, Jar Jar is the gentlest, softest, boy alive. Weighing in at 27 lbs, he's definitely my biggest cat but there is no flubber on this fit boy. Vets have speculated he is a Maine Coon. To me, he's a mutt. I found him on the streets of Farmington, NM with his whiskers all cut off and in less than appropriate circumstances. We had a Tarzan moment. He instantly became momma's boy. I am so lucky to have this sweetie.
Olly - The Kneady Sweetie
I adopted sweet Ollivander during my time working at Nine Lives Cat Cafe. He wasn't the first one of those sweet angels I fell in love with, but he was the first that would fit into my household of already three cats at the time. He is attached to all of them. He's been an adventure for us. So playful and eager to meet every person that walks through our door. If you're down for some loving, feel free to meet this fella.
Gandalf - The Grey
He's not a fan of the camera. This was my first of four babies. My grandma gave him to me when I moved to New Mexico briefly in 2015. Gandalf was a small wee little lad that followed me everywhere. He's my most cuddly. He snuggles right in between my husband and I. Gandalf is cautious and all knowing. He's also a big ol' dork. Don't let his wise name fool you. He'll entertain you will all his aintics.